Schocharie Ridge Farm
Schocharie Ridge Farm offers horse boarding and training, with indoor and outdoor arenas plus trails. Stall board with daily turnout and field board are available at reasonable rates. Trainer and owner Sandy Kantor starts young horses under saddle and re-schools older horses using dressage. Lessons are offered to boarders or ship-ins on their own horse. Schocharie Ridge Farm also offers foaling services. Located in northwestern Lehigh county, it is the valley's most picturesque horse farm.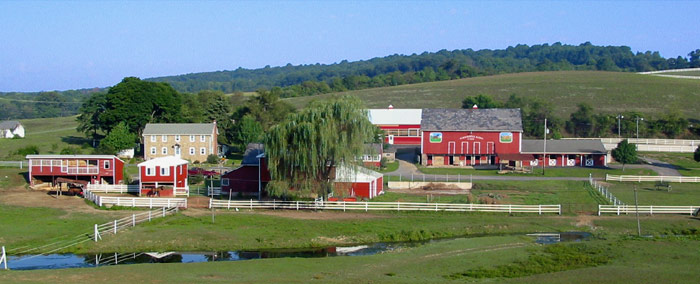 About the Farm
The 48 acre farm has a main barn with 17 box stalls, a foaling barn with two oversized stalls and three run-in sheds with attached turn-out for field board. There is a wash area with hot and cold water in the main barn. Numerous grassy pastures and smaller paddocks are safely fenced for ample turnout. Two tack rooms are available to store equipment.
There is a 72'x144' indoor arena with sand, rubber, and felt footing and a 120'x240' outdoor fenced sand and rubber ring. Both have excellent lighting for evening riding. Trails through woods and fields are great for hacking. The owner lives on site.
Many young horses have gotten an excellent start under trainer Sandy Kantor, then gone on to excel as dressage horses, jumpers, hunters, and pleasure horses. Sandy is very willing to work with horse and owner as a team to start, re-school or further both the horse and rider's education. Owners with a busy work schedule can opt for partial training to keep their horse schooled and fit on days they can't make it to the farm.
Schocharie Ridge Farm has been in business since 1984, providing excellent, conscientious care and training for horses of all breeds. The facilities are clean and well-managed by people who truly care about horses. Dressage clinics and schooling shows are periodically hosted at the farm.
---
About the Owner

Sandy Kantor has earned her USDF bronze medal. She keeps her knowledge current by regularly taking lessons as well as riding in and auditing clinics offered at Schocharie Ridge Farm and surrounding facilities. She successfully competes her mare and gelding at recognized dressage shows.
Sandy has been a horse owner since age eight. She has a bachelor's degree in Animal Science from the University of Massachusetts and grew up on a dairy farm. Sandy observes the horses daily, as she does much of the labor herself. Sandy tries hard to keep an open line of communication between herself and each boarder as well as provide a friendly atmosphere and excellent care for all horses.
---
© 2004-2020 Schocharie Ridge Farm